Bamboo Semiarundinaria yashadake f. kimmei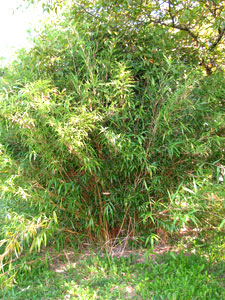 Geographic Origin: Originates from Japan.
Adult size: 3.5 to 5.5 m. in height.
Diameter of cane: 0,2 to 2,5 cm.
Foliage: Evergreen.
Type of soil: Moist and deep. Does not like excessive chalk.
Exposure: Partial shade or full sun.
Hardiness: -18°C.
Root development: Runner root system (spreading variety).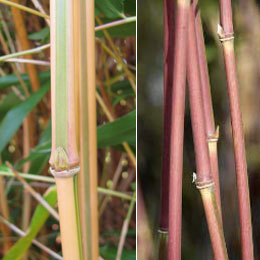 Characteristics and uses:
The canes of this magnificent small bamboo change colour depending on age and its exposure to the sun. The young canes are golden yellow striped with green between the knots, as they are exposed to the sun they become crimson red. Its leaves are light green and creased at their base and contrast well with the colour of the canes. It has a columnar shape.

It can be used for small hedges or as a single specimen; it is also at home in a pot or planter. It tolerates difficult soil conditions. A sunny position is advisable to ensure that its colours are put in value.
www.planfor.co.uk