Bamboo Phyllostachys viridis f. houzeau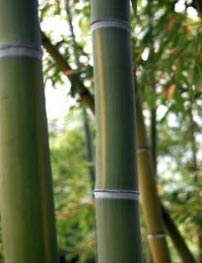 Geographic Origin: Originates from China, it is found in central China, in the provinces of Jiangsu, Zhejiang, Anhui, Henan, Jiangxi as well as Hong Kong.
Adult size: 7 to 10.5 metres in height.
Diameter of cane: 4 to 7 cm.
Foliage: Evergreen.
Type of soil: Moist and deep. Does not like excessive chalk.
Exposure: Partial shade or sun.
Hardiness: -22°C.
Root development: Runner root system (spreading variety).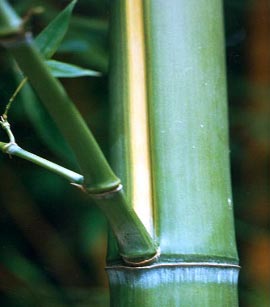 Characteristics and uses:
The canes are green with a tendency towards yellow; the groove in the stems is yellow. Its leaves are medium sized and light green in colour. It has an upright shape.

This bamboo is ideal for planting in single clumps or in groups.

It is also called:
- phyllostachys sulphurea f. houzeau, or,
- phyllostachys sulphurea f. houzeauana.
www.planfor.co.uk