Crab-apple Perpetu 'Evereste' - Malus perpetu® 'Evereste' (latin)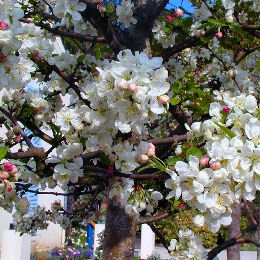 Adult Dimensions: Height up to 5 m, width up to 5 m (16,4').
Foliage: Deciduous.
Soil Type: All but moist and fresh is preferred
Hardiness: Tolerant to -22°C.
Exposure: Full sun.
Characteristis and uses:
Magnificent and abundant flowering in spring. The pink flowers become white. They produce little orange yellow apples tinted red and approximately 1-3cm (0,03-0,1") in diameter. Much enjoyed by birds they stay on the tree for much of the winter. The fruits are followed by the flowers and the flowers by the fruits...

The quality and abundance of the pollen makes it an excellent pollinator for apple trees. It is very resistant to the main maladies such as bacterial infections, apple scab and mildew.

This apple tree offers many benefits to any garden. It is also used by bonsai enthusiasts.
www.planfor.co.uk