Purple beech or copper beech - Fagus sylvatica purpurea (latin)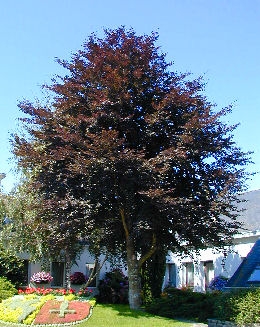 Area of origin: Cultivated.
Adult Dimensions: Height up to 30 m (98.4), width up to 20 m (65.6').
Foliage: Deciduous.
Soil Type: All.
Hardiness: Hardy to -20°C, prefers wet/damp climate.
Exposure: Shade to full sun.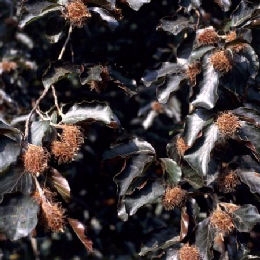 Characteristics and Uses:
The purple foliage is beautiful. Planted alone, in a group or in a row, this is a very impressive tree that responds well to cutting and can be used to create a lovely screen. Bonsai enthusiasts commonly use this species.
List of Beech:
Purple Beech
(Fagus sylvatica purpurea), extremely decorative purple foliage.
Tricolor Beech
(Fagus sylvatica 'Tricolor'), extremely beautiful variegated foliage, sought after by bonsai connoisseurs.
www.planfor.co.uk