Leptospermum Silver Sheen -
Leptospermum lanigerum Silver Sheen (latin)
Area of origin: Australia.
Adult Dimensions: Height up to 4 m (13'), width up to 2.5 m (8,2').
Foliage: Evergreen, silvery grey.
Soil Type: Dislikes lime.
Hardiness: Hardy to -12°C.
Exposure: Semi-shade to full sun.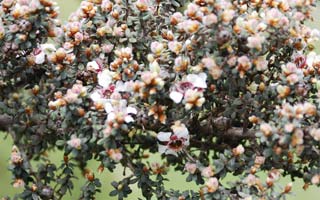 Author: Cs california
Characteristics and Uses:
Spectacular abundant white flowers in spring.
This beautiful shrub is commonly used within a mixed windbreak hedge or flowerbeds but is equally effective when planted alone.
Bonsai enthusiasts enjoy working on this species and the flowers are used in bouquets.