Skyduster Palm, Mexican Palm - Washingtonia robusta (latin)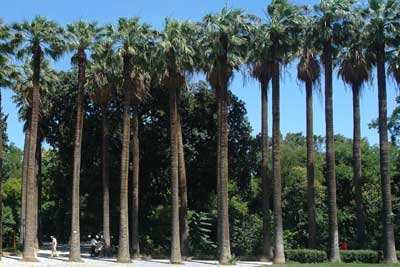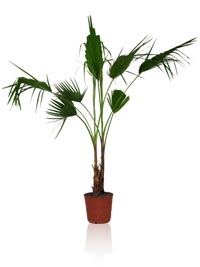 Geographical origin: North West of Mexico.
Adult dimensions: Height up to 25 m. The trunk can measure up to 20 m and its leaves can measure as much as 4 m across.
Foliage: Evergreen.
Type of soil: Any well drained.
Climate: Adult specimen hardy to -8°C.
Site: Full sun.
Growth: Rapid.
Characteristics and uses:
The Mexican Palm (Washingtonia robusta) is a very elegant palm. Its single trunk is very slender and can measure up to 80 cm in diameter.
Its leaves are very high up in the form of a crown and are palmate and a bright green color. This has caused it to be named in the United States the « skyduster palm ».
In bygone time its leaves were used for weaving and in the construction of thatched roofs.

When grown outdoors the Mexican palm will provide beautiful flowers as soon as summer arrives. The flowers are grouped together in large clusters which are followed by a large number of small shiny black round fruits. The Mexican Palm is hermaphrodite, meaning that fruits will grow on all the specimens.
It is important to cut off the lower leaves which wither as the palm grows. This palm is very sculptural and can be grown in a pot as a house plant. This will obviously limit its growth.
Go green and transform your living spaces into small tropical gardens!
How to look after your Mexican Palm:
Grown outdoors your palm will need very little looking after. Indoors, make sure to put it in a bright room. However be careful not to put it next to a window that is exposed to the sun for long periods as this may cause burning of its leaves.
As soon as outside temperatures allow you can put your palm outside on the patio. Water it with care especially during the winter. A good guide is to wait until the soil surface is dry before watering. Spray its leaves regularly especially in the summer.
To read:
Shrubs and trees around a swimming pool By Jean-Michel Groult.
Photos-Testimonials:

Other palm tree:
Bismarck Palm, Bismarckia Nobilis, grows slowly, this makes it a good candidate for a pot plant...
Canary Island Date Palm, is the most widespread palm around the Mediterranean...
Dwarf fan Palm, its slow growth encourages shoots, and allows the formation of numerous new stems.
Windmill Palm, Beautiful creamy perfumed flowers in May and June produce violet brown drupes...
www.planfor.co.uk