Tardiva Panicle Hydrangea –
Hydrangea paniculata 'Tardiva' (latin)
Area of origin: China and Japan
Adult Dimensions:
Height up to 3m (9.8'), width up to 2m (6.6').
Foliage: Deciduous.
Soil Type:
Wet and well drained. Enrich if too poor. Dislikes lime.
Hardiness: Hardy to -25°C.
Exposure: Semi-shade to full sun.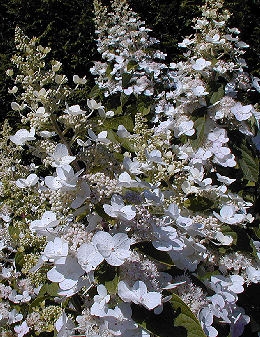 Characteristics and Use:
The white flowers of this hydrangea grow in panicles measuring up to 15cm (5.9") in length and turn pink at the end of flowering. They illuminate the garden from August to September. Hydrangeas are well known for brightening the northern aspect of buildings and can just as well be used under trees, in flowerbeds or mixed groups. Can be used for creating beautiful dried floral arrangements.
Pruning advice:
All panicle hydrangeas flower on new stems. For the first three years cut only the withered flowers. They can then be pruned by 50% every three years, between November and March. This promotes the development of strong flower stems.