Bamboo Chimonobambusa tumidissinoda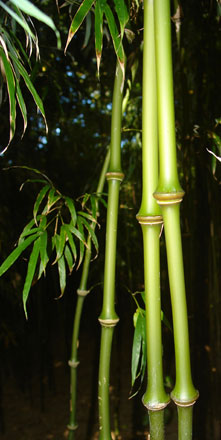 Geographic Origin: Originates from the valleys of the Chinese provinces of Sichuan and Yunnan, it grows near the borders with Myanmar and Vietnam.
Adult size: 3 to 5 metres in height.
Diameter of cane: 0.8 to 3cm.
Foliage: Evergreen.
Type of soil: Moist and deep. Does not like excessive chalk.
Exposure: Partial shade.
Hardiness: -15°C.
Root development: Runner root system (spreading variety).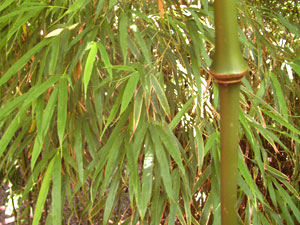 Characteristics and uses:
It has slender green leaves and a weeping shape. Its point of notoriety is the bulbous knots.

This bamboo is suitable for planting in a container or it could be included in a boarder. Be careful not to place it in direct sun.

First introduced into England in 1987, it is now spreading throughout Europe, although it is still rare. In Asia the canes are used for making umbrellas and walking sticks. In the popular media, we could imagine Charlie Chaplin leaning on his legendary cane made of Chinobambusa tumidissinoda.
www.planfor.co.uk