Limelight Panicle Hydrangea -
Hydrangea paniculata 'Limelight' (latin)
Area of origin: China and Japan.
Adult dimensions:
Height: Up to 2.5 meters (8.2').
Foliage: Deciduous.
Soil:
Avoid heavy soils such as clay. If this is not possible, mix with heather compost in order to make ventilation possible.
Hardiness: Frost hardy up to -20°C.
Position: Semi-shade to full sun.
Growth rate: Rapid.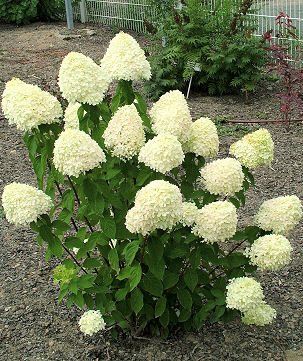 Characteristics and features:
Creamy-white blooms appear first and quickly turn lime-green with lemon-yellow tinges. These flowers will light up your garden from July to September. Despite the large flower heads, which can measure up to 20 cm (7.9") in diameter this shrub maintains its upright structure thanks to its thick, straight branches. Like all panicle hydrangeas, this variety supports all situations. It can be planted equally successfully in flowerbeds or on its own. Its compact form and its good ramification make it easy to grow in containers.
Pruning advice:
All panicle hydrangeas flower on new stems. For the first three years cut only the withered flowers. They can then be pruned by 50% every three years, between November and March. This promotes the development of strong flower stems.