Bismarck Palm - Bismarckia nobilis (latin)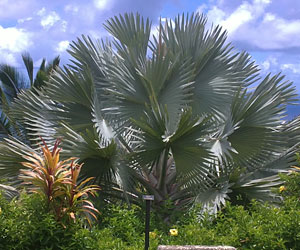 Garden of Eden, Hawaï
Geographic Origin: Island of Madagascar.
Adult size: Height up to 25 metres, width up to 8 meters.
Foliage: Evergreen.
Type of soil: Neutral, well drained, moist.
Hardiness: Not hardy, supports light frosts of -1 or -2°C for a short period.
Site: Full sun.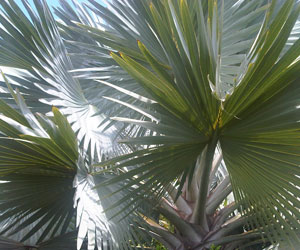 Garden of Eden, Hawaï
Characteristics and uses: The Bismarck palm is a magnificent palm tree, it has palmate feather like leaves that are purple when young becoming grey blue as the tree matures. Its trunk is smooth and quite wide.
It grows slowly and this makes it a good candidate for a pot plant where it should be kept inside in a light position or in a veranda. Remember to put it outside when the temperatures warm up so that it can profit from the summer Its root system is quite sensitive so avoid repotting it too often.
In regions with mild winters, it can be grown in the ground as long as it is well protected over winter.
Other palm tree:
Canary Island Date Palm, is the most widespread palm around the Mediterranean...
Dwarf fan Palm, its slow growth encourages shoots, and allows the formation of numerous new stems.
Skyduster Palm, Its leaves are very high up in the form of a crown and are palmate and a bright green color...
Windmill Palm, Beautiful creamy perfumed flowers in May and June produce violet brown drupes...
www.planfor.co.uk