Bamboo Hibanobambusa tranquillans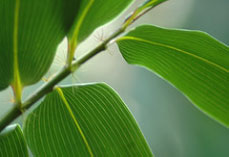 Geographical origin: Originating from Japan, it is a hybrid between a Sasa and a Phyllostachys.
Adult dimensions: 3 to 4 m. in height.
Diameter of cane: 1 to 2.5 cm.
Foliage: Large variegated leaves.
Type of soil: Damp and deep. Dislikes very chalky soil (alkaline).
Climate: This bamboo is very hardy and is happy everywhere.
Exposure: Light shade to full sun.
Hardiness: Hardy to -15°C.
Root development: Runner root system (spreading variety).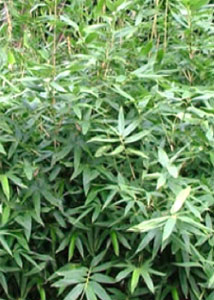 Characteristics and uses: It does very well planted in pots, tubs, or hedges. It is suited to all kinds of soils and climates, which makes it one of the easiest varieties to grow.

The leaves have rounded extremities. They are a luminous green colour, variegated with irregular creamy white patches. Its stature is less upright than the Phyllostachys, but more so than the Sasa.

The leaves are twice as long and wide on the current year's shoots as on those of the previous year.
www.planfor.co.uk