Nashi or Asian Pear - Pyrus pyrifolia (latin)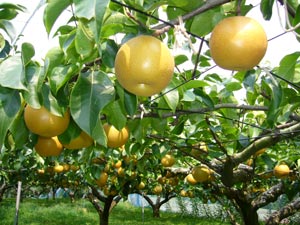 GNU Free Documentation License - Author: katorisi
Geographic origin: Temperate regions of the Far East.
Adult size: Height up to 5 metres.
Foliage: Deciduous.
Type of soil: Light and deep.
Climate: Hardy to -15°C.
Position: Full sun.
Pollinators: Pear 'Williams'.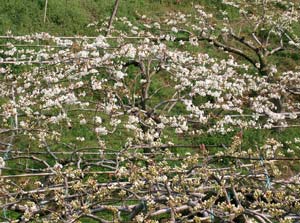 GNU Free Documentation License - Author: KENPEI
Characteristis and uses:
Nashi is the Japanese word for pear. This tree is closely related to the pear tree. It produces fruits called Nashis, which have the shape of an apple and a taste very similar to that of a pear. They are crunchy and juicy. They are harvested when ripe from August onwards.

The bronze Nashi 'Hosui' has a bronze skin, a juicy texture and reaches maturity between the middle of August and beginning of September.

The yellow Nashi 'Shinseiki' is round in shape with a smooth yellow green skin; its flesh is sweet and juicy. It reaches maturity at the beginning of August.
www.planfor.co.uk