Aloe vera or Medicinal aloe - Aloe barbadensis or Aloe vulgaris (latin)
Plug plant 1L - Indoor plant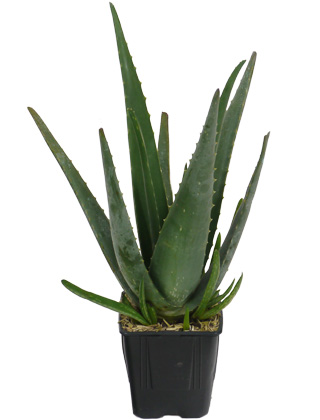 Recommended temperature: 18 to 21°C.
Hygrometry: Arid atmosphere.
Site: Full sun.
Geographical origins:
Northern Africa, Canary Islands and Cape Verde Islands.
Adult dimensions:
Up to 80 cm in height and 60 cm in width.
Climate:
Aloe Vera is grown throughout the world. In areas where the temperatures can fall below 5°C, it is best grown in a pot and brought indoors over winter.
Growth:
Quick.
Characteristics and uses:
Aloe Vera has been with man for more than 5000 years.
Regardless of the time or the place, its uses though varied have always remained the same. Man has always counted on Aloe Vera's digestive, dermatological and cosmetic virtues as well as its culinary qualities.

However it was only from 1968 onwards following a discovery by a Texan chemist Bill Coats that the commercial growing of Aloe Vera really took off.

Today it is grown and used in numerous regions throughout the world.
Aloe Vera can also be grown as a house plant.
Without doubt you will soon appreciate its upright sculpture like appearance.

You could also learn how to extract its juice for your own personal use.

Finally, Aloe Vera is also a plant that cleanses the air against pollutants such as carbon monoxide, benzene and toluene.
How to grow Aloe Vera:
Aloe Vera is a succulent, meaning that it is fleshy plant best adapted to arid conditions.
- It is therefore best not watered too much especially in winter.
- The soil needs to be well drained so that any possible water logging around the roots is avoided.

- If growing in pots chose a pot to suit the size of the plant. A fifteen litre pot or planter will usually suffice.

- As soon as the temperature is likely to fall below 5°C bring your plant into the conservatory or into a bright room.
- Aloe Vera really needs a lot of light.
- However do be careful not to place it next to a sunny window where its leaves could get burnt by the sun
How to extract the juice from an Aloe Vera:
- Cut off an Aloe Vera leaf at its base with a sharp knife this will help with healing;
- Put the leaf on an absorbent piece of paper;
- Cut the leaf lengthways into 2cm wide strips;
- Wait for 3 minutes while the yellow sap oozes onto the absorbent paper;
- Remove the cut leaves;
- Now cut each leaf piece in half;
- Collect the juice with the help of a wooden spatula.