Variegated Holly-Leaf Osmanthus - Osmanthus heterophyllus variegatus (latin)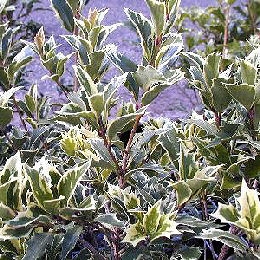 Area of origin: Japan. Introduced into Europe in 1856.
Adult Dimensions: Height up to 3 m (9,8'), width up to 2 m (6,6').
Foliage: Evergreen.
Soil Type: Well drained. Enrich if too poor.
Hardiness: Hardy to -20°C.
Exposure: Semi-shade to full sun.
Characteristics and Uses:
This beautiful shrub and its magnificent foliage should not be confused with holly. The highly scented white flowers appear from July to September and are followed by lovely blue black fruits. Often planted in flowerbeds and hedges.
www.planfor.co.uk