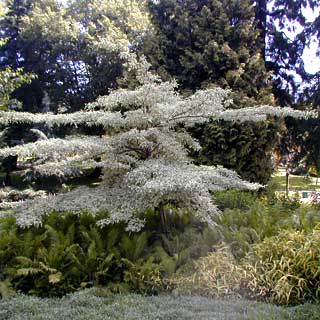 Geographical origins : Japan, China.
Adult dimensions : height up to 8m, width up to 4m.
Foliage : decidous.
Type of soil : any but dislikes very alkaline soil.
Hardiness : hardy.
Exposure : partial shade to full sun.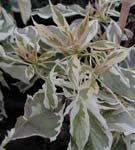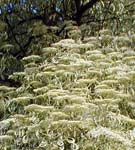 Characteristics and Uses : The Wedding Cake Tree (Cornus Controversa Variegata) has beautiful green foliage dashed with a creamy white which takes on a red tint in autumn. The wide spread of its branches gives it a sculpture like appearance. The Wedding Cake Tree flowers from May to June. It is covered entirely by small flat clusters of white flowers. It is an unforgettable sight. The flowers are followed by small shiny black berries that are a real treat for the birds.
The Wedding Cake Tree could quite easily become a major focal point in your garden, whether planted on its own or as part of a border.
List of Cornus:
Bloodtwig Dogwood (Cornus sanguinea)
, off white blossom in May - June, red stems in winter
Chinese Dogwood (Cornus kousa)
, small white flowers in May - June, red foliage in the autumn
Cornelian Cherry Dogwood (Cornus mas)
, early bright yellow blossom in February - March, high nectar producing, edible bright red berries in summer
Flowering Dogwood (Cornus florida)
, superb star shaped blossom at the beginning of spring, red foliage in the autumn
Japanese Cornel Dogwood (Cornus officinalis)
, yellow blossom, abundant and scented as early as February, edible berries
Red Barked Dogwood (Cornus alba)
, small creamy white flowers in May - June, bright red stems in winter