Bamboo Phyllostachys Atrovaginata "Green Perfume"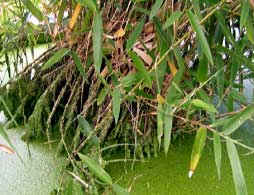 Geographic Origin: Originates from the east of China, it is found especially in the provinces of Jiangsu and Zhejiang.
Adult size: 5.5 to 7.5 metres in height.
Diameter of cane: 2.5cm to 5cm.
Foliage: Evergreen.
Type of soil: Well suited to damp areas, ideal next to water. Dislikes excess of lime.
Climate: Needs to be sheltered from cold winds.
Exposure: Shade, partial shade or full sun.
Hardiness: -22°C.
Root development: Runner root system (spreading variety).
Characteristics and uses: Originating from China this sweet smelling bamboo is particularly suitable for any damp areas. Ideal for holding together banks of earth, this bamboo with its runner root system will fit any situation. It is happy to be planted in clumps or as a hedge. The use of an anti-rhizome barrier is recommended. Its great advantage is that it has tubes inside that are filled with air, which means that its roots do not get asphyxiated. It is also employed to filter used water.

- This Phyllostachys has large hard green stems.
- Its leaves are green and of average size.
- Its comportment is upright and its stems are very solid.

It should be sheltered from cold winds, because although it is frost resistant the foliage can be damaged in temperatures below -12°C.
Its shoots are edible.
In English, it is known as "Green Perfume", because when you rub it has a slight smell of incense.
It is perfect for using as a screen of greenery.
www.planfor.co.uk