Bamboo Pleioblastus chino Hisauchii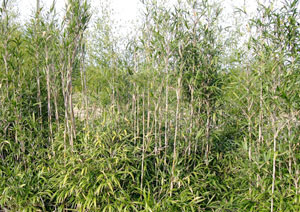 Geographic Origin: Originates from Japan where it is found everywhere. It has also been found in the Chinese province of Zhejiang.
Adult size: 1.5 to 3 metres in height.
Cane diameter: 0,4 to 1,5 cm.
Foliage: Evergreen.
Type of soil: Moist and deep. Does not like excessive chalk.
Exposure: Partial shade or sun.
Hardiness: -18°C.
Root development: Runner root system (spreading variety).
Characteristics and uses:
It has slightly downy canes that are olive green in colour; its young shoots are crimson green. Around the knots on the cane, there is a waxy ring.

Its green leaves are long and lance like.

This bamboo can be grown as a hedge, a lone specimen or as a group.
www.planfor.co.uk