Plum tree 'Reine Claude de Bavay' - Prunus domestica 'Reine Claude de Bavay' (latin)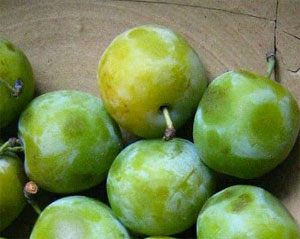 Geographic origin: Belgium.
Adult size: Height up to 7 metres.
Foliage: Deciduous.
Type of soil: All.
Climate: Hardy to -17°C.
Position: Full sun.
Pollinators: Self-fertile.
Characteristis and uses:
Widespread in our gardens, the plum tree is adorned with lovely white flowers at the start of the spring. These form on the previous year's branches, so be careful not to over prune.

The plum tree is particularly susceptible to various diseases and must be closely watched after the flowers appear.

The plum tree Claude de Bavay has large greenish yellow fruits. The flesh is juicy, sweet and highly fragranced. The fruits are ready to pick in September. This plum tree is very productive and will start to produce fruit quickly.
www.planfor.co.uk