Area of origin:South Korea. Introduced in 1905.
Adult Dimensions: Height up to 10 m (32,8') , width up to 3 m (9,8').
Foliage: Evergreen.
Soil Type: Dislikes lime.
Hardiness: Don't plant on the coast. Hardy tolerant to -25°C.
Exposure: Full sun.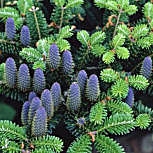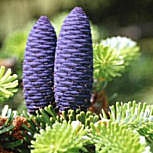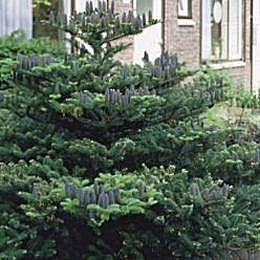 Characteristics and Uses:
The vertical cones which are initially violet appear in bunches among the shiny dark green leaves. This little tree grows slowly only 1.5m (4,9') every 10 years. It is the ideal tree for little gardens whether planted in flowerbeds or alone. Bonsai enthusiasts enjoy using this variety.