'Arthur Rimbaud'® Meihylvol Rose -
Rosa 'Arthur Rimbaud'® (latin)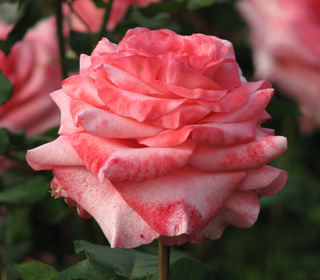 © Kor!An
Breeder: Meilland 2009.

Blossom: Continual flowering.
Flower diameter: Approximately 8 cm.
Fragrance: Strong.
Adult dimensions: Height up to 1.50 m, width up to 70 cm.
Foliage: Deciduous.

Type of soil: Rich and free draining.
Climate: Very hardy.
Site: Full sun.
Planting spacing: Every 60 cm.
Characteristics and uses: The Garden rose 'Arthur Rimbaud'® is extremely beautiful. It has big, pale pink flowers and a strong fragrance of May rose. It will blossom continually from May right through to the first frosts.
This Garden rose can be planted in a border, a flowerbed or even on its own. Plant it preferably next to a path to enjoy its perfume.