Small-Leaved Gum Eucalyptus Tree –
Eucalyptus parvifolia or parvula (latin)
Geographical origins:
Australia, Tasmania, Malaysia.
Introduced into Europe in 1828.
Adult dimensions: Height up to 12 m, width up to 8 m.
Foliage: Evergreen.
Type of soil: Any.
Climate: Resistant up to -18°C at adult stage (a lot more sensitive to frost as a young plant).
Exposure: Full sun.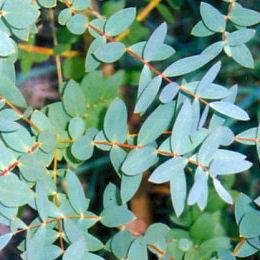 Characteristics and uses:
The small green- grey leaves of the Eucalyptus parvifolia are heavily scented and decorative. It is used extensively in flower arranging. It has a spreading shape, its bark is grey and cream and its adult leaves are elongated. It can be planted either as a specimen, on its own or as part of a group of Eucalyptus. Because it is smaller in size than the Eucalyptus Gunnii, it will thrive in the smaller gardens.