Area of origin: Mediterranean.
Adult Dimensions: Height up to 1.5m, (4,9') width up to 1m (3,3').
Foliage: Evergreen.
Soil Type: Avoid ground that is too wet.
Hardiness: Shelter in winter in areas other than the Mediterranean. Tolerant to -12°C.
Exposure: Full sun.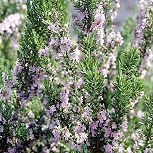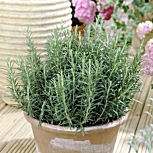 Characteristics and Uses:
White lilac to violet blue flowers in May and June. The leaves are dark green and silvery white underneath and are used widely in cooking.
This shrub is often planted with lavender and thyme in containers or in the ground, it is a very versatile plant great in flowerbeds and borders. The essential oils are extracted and commonly used.
List of Aromatic plants:
Bay Laurel (Laurus nobilis)
Corsican mint (Mentha requienii), dwarf mint, ground cover, peppery smell
Lemon Thyme (Thymus citriodorus), lemon scent
Oregano 'Aureum' (Origanum vulgare 'Aureum'), extremely decorative golden foliage
Oregano 'Compactum' (Origanum vulgare 'Compactum'), compact green foliage, highly fragrant
Peppermint bergamota (Mentha piperita Citrata), lemon scent
Peppermint (Mentha piperita), peppery taste
Pineapple mint (Mentha suaveolens 'Variegata'), variegated foliage, scent of apple and pineapple
Spear Mint - Mentha Spicata
Tarragon (Artemisia dracunculus)
Thyme (Thymus vulgaris)
Wild Thyme (Thymus Serpyllum)