Italian alder or Corsican alder –
Alnus cordata or alnus cordifolia (latin)
Areas of origin: Corsica, centre and south of Italy.
Adult Dimensions: Height up to 25 metres (82'), width up to 12 metres (39.4').
Foliage: Deciduous.
Soil type: All.
Hardiness: Hardy to -20°C.
Exposure: Full sun.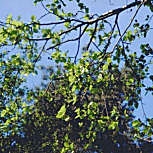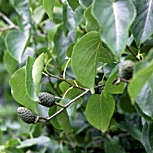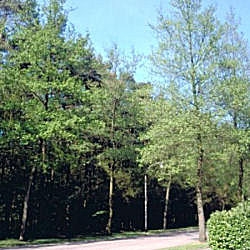 Characteristics and Uses:
The leaves of the Corsican Alder are a glossy dark green on the top and light green underneath. They are heart shaped at their base. It's a beautiful ornamental tree. Not fussy about the quality of soils and with a rapid growth, the Corsican Alder is often used to replant industrial wasteland or motorways rest areas. It can also be found as part of numerous windbreak and rural hedges.