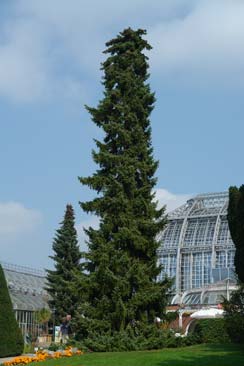 Arboretum of Berlin
Geographical origins: Serbia, Bosnia Herzegovina, discovered in 1875, introduced in Europe en 1889.
Adult dimensions: Height up to 30 m, can reach up to 50 m in certain countries. Width up to 5 m.
Foliage: Evergreen, it is one of the last Spruces with flat needles.
Soil Type: Not particularly fussy about the soil, the Serbian Spruce also tolerates dry and chalky soils.
Hardiness: Hardy to -28°C.
Exposure: Full sun.
Characteristics and Uses: The Serbian Spruce ( Picea omorika) is easily recognised with its narrow weeping shape. Its fruits are conical. Of a bluish- purple color, they stay on the tree for approximately one year.
The Serbian Spruce ( Picea omorika) is extremely resistant to industrial pollution.
It will provide an elegant focal point in the landscape. It will evidently only be planted in large spaces.