Area of origin: China, Japan and Korea.
Adult dimensions: Height: Up to 1.5 meters. Spread: Up to 1.5 meters.
Foliage: Deciduous.
Soil: Deep and cool, silty and rich in organic matter or peat or heather compost. Cannot tolerate chalky soil.
Hardiness: Frost hardy up to -15°C.
Position: Semi-shade to full sun.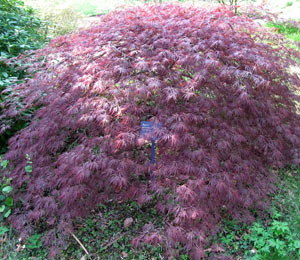 Author: Liné1
Characteristics and features: The Japanese Maple 'Ornatum' is outstanding with its rounded, compact shape. Its lace like, filigree foliage changes colour every season. Pinkish-mauve to start with, it turns green in summer then becomes orangey-yellow in autumn.

This Acer is best planted on its own or in borders, in parks and gardens or terraced gardens, on north exposed terraces. Well known in the world of bonsai connoisseurs, the Japanese Maple Ornatum is also grown in containers, thanks to a few annual pruning.
List of Japanese Maples:
'Butterfly' Japanese Maple (Acer palmatum 'Butterfly')
, finely serrated green grey leaves with pinkish white margins
Deshojo Japanese maple (Acer palmatum 'Deshojo')
, bright red foliage throughout the spring and the autumn, light green in summer
Japanese Maple
, beautiful autumnal foliage
Japanese Maple 'Atropurpureum' (Acer palmatum atropurpureum)
, serrated leaves, purple, then bronzy red
Japanese Maple 'Dissectum garnet' (Acer palmatum 'Dissectum Garnet')
, weeping shape, finely serrated red leaves
Japanese Maple 'Dissectum viridis' (Acer palmatum 'Dissectum Viridis')
, weeping shape, light green finely serrated leaves, turning golden to red in the autumn
See the catalogue of all the Maples
See the Japanese Maples catalogue