Geographical origin: New Zealand.
Adult dimensions: Height up to 30 cm, width up to 30 cm.
Foliage: Evergreen.
Type of soil: Moist to water logged.
Hardiness: Hardy to -15°C.
Exposure: Partial shade to full light.
Plantation density: 9 / m².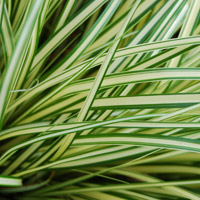 Author: Derek Ramsey
Characteristics and uses:
This grass has dark green leaves with a wide yellow stripe and will brighten up any plain area. This variegated sedge is also ideal for use in your borders. It can also be used as ground cover; usually 9 sedges for every m².