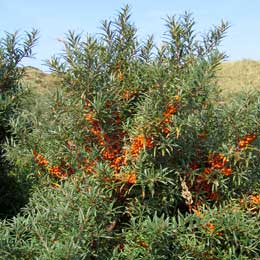 Author: Svdmolen -
GNU Free Documentation License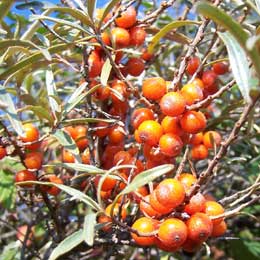 Author: Jürgen Howaldt -
Creative Commons
Areas of origin : Europe, temperate regions of Asia.
Adult Dimensions : Height up to 10 metres (32.8'), width up to 5 metres (16.4').
Foliage : Deciduous.
Soil Type : All.
Hardiness : Hardy tolerant to -17°C.
Exposure : Full sun.
Characteristics and Uses : The bright orange fruits in bunches grow on spiny branches. They are very decorative and remain attractive until winter. The acids and high vitamin C content make it ideal for making ices or in sauces for meat and or fish. When the fruits appear on female shrubs it is advised to plant more to aid fertilisation. We recommend generally to plant a male for eight females.
As well as its ornamental interest, this tree is also planted to stabilise and colonise ground in embankments, alongside motorways, along waterways, in mountainous areas and along sea coasts.
List of trees and shrubs with edible fruits:
Black Chokeberry 'Viking' (Aronia melanocarpa 'Viking'), slightly acidic berries, purple black used in jam-making
Blueberry Bush 'Jersey' (Vaccinium corymbosum 'Jersey'), slightly acidic fruits, from August
Common Hazel (Corylus avellana), nuts from September
Common Walnut (Juglans regia), nuts from end of October, delicious in salads
'Jenny' Self Fertile Kiwi (Actinidia chinensis 'Jenny'), hardy to -12°C
Pineapple Guava (Feijoa sellowiana), fruits rich in vitamin C and pineapple taste, only grows in warm climate areas
Raspberry 'Fall Gold' (Rubus idaeus 'Fall Gold'), soft fruits, fragrant, orangey yellow, double cropping and self-fertile variety
Raspberry 'Heritage' (Rubus idaeus 'Heritage'), soft and fragrant fruits, double cropping and self - fertile variety
Red Chokeberry 'Brilliant' (Aronia arbutifolia 'Brilliant'), bright red fruits from the Autumn
Strawberry Tree (Arbutus unedo), hardy to -12°C, its fruits look like a strawberry
Sweet Chestnut (Castanea sativa), edible fruits when grilled
White Mulberry (Morus alba), pinkish white fruits, sweet


Edible Hedge 'Ophélie', provides edible red fruits throughout the summer
See the catalogue of tree and shrubs with edible fruits