Plum tree 'Quetsche d'Alsace' - Prunus domestica 'Quetsche d'Alsace' (latin)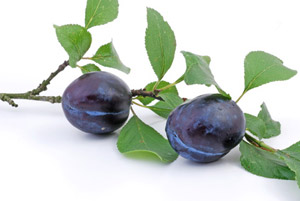 Geographic origin: Caucasus and Near East, introduced into France at the time of the Crusades.
Adult size: Height up to 7 metres.
Foliage: Deciduous.
Type of soil: All.
Climate: Hardy to -17°C.
Position: Full sun.
Pollinators: Self-fertile.
Characteristis and uses:
Widespread in our gardens, the plum tree is adorned with lovely white flowers at the start of the spring. These form on the previous year's branches, so be careful not to over prune.

The plum tree is particularly susceptible to various diseases and must be closely watched after the flowers appear.

The plum tree Quetsche has violet crimson medium sized fruit. The flesh is firm, slightly acidic, not very juicy or sweet, but ideal for tarts. The fruits are ready in September. This plum tree is very vigorous.
www.planfor.co.uk