Fig tree 'Violette de Solliès' - Ficus carica 'Violette de Solliès' (latin)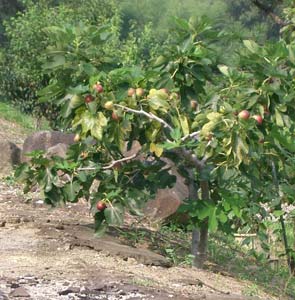 GNU Free Documentation License - © KENPEI
Geographic origin: Persia and Asia minor.
Adult size: Height up to 8 metres, width up to 6 metres.
Foliage: Deciduous.
Type of soil: All, prefers well drained.
Climate: Hardy to -15°C.
Position: Full sun, protected from winds.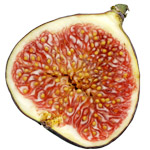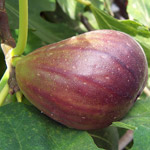 © Slav4
Characteristics and uses: This fig tree is a very beautiful specimen to plant in either a large or a small garden. It produces figs that are particularly sweet. They are best eaten straight after picking or they can be dried. They can also be used to make jam.
It is important to use only female stock, as it is the unfertilized flowers that will form the figs.
The figs of the violette de Solliès are very large and almost black in colour with a very scented red flesh.
These figs are particularly tasty. They reach maturity between the end of August and November, as long as the end of the summer is warm. This fig tree has a vigorous growth.
www.planfor.co.uk