Rhubarb - Rheum rhabarbarum (latin)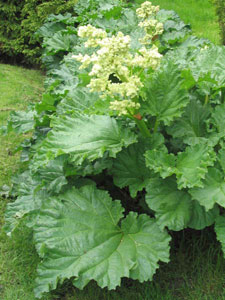 © Teunie
Geographical origin: Asia.
Adult dimensions: Height up to 1.50 m, width up to 1.50 m.
Foliage: Evergreen.
Type of soil: Rich, deep.
Hardiness: Hardy to -20°C.
Site: Mid-shade to full sun.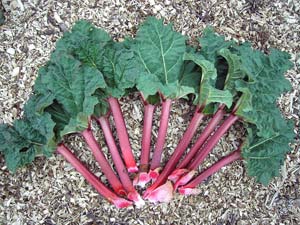 © Dieter Weber
Charactéristics and uses:
The rhubarb is a stem vegetable. It needs to be planted preferably in full sun, in a spacious spot, as it will require space to develop. Its big leaves will brighten up your garden.
Only the stems are edible, the leaves being toxic. The harvest will take place as from the second year, from end of April until June, and sometimes, again in September. Normally cooked, the rhubarb is either used in the making of jams, tarts, crumbles, on its own or accompanied by apples or strawberries.
Lemon and certain spices are also perfect partners.
www.planfor.co.uk