Japanese Cornel Dogwood -
Cornus officinalis (latin)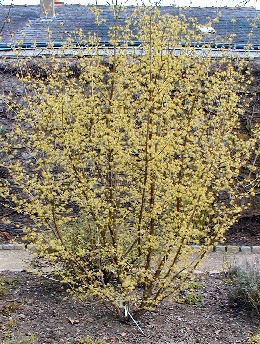 Areas of origin: Japan, Korea.
Adult dimensions: Height up to 5m (16.4'), width up to 3 m (9.8').
Foliage: Deciduous, red orange in autumn.
Type of soil: All.
Hardiness: Hardy, tolerant to -25°C.
Exposure: Semi-shade to full sun.
Characteristics and Uses: This beautiful shrub lights up the garden in February. The abundant perfumed flowers are followed by red fruits that are edible. The bark on older shrubs exfoliates leaving the appearance of beautiful shades of brown and orange. This shrub is equally good planted alone or within hedges or flowerbeds. Bonsai enthusiasts use this variety to work on.
List of Cornus:
Bloodtwig Dogwood (Cornus sanguinea)
, off white blossom in May - June, red stems in winter
Chinese Dogwood (Cornus kousa)
, small white flowers in May - June, red foliage in the autumn
Cornelian Cherry Dogwood (Cornus mas)
, early bright yellow blossom in February - March, high nectar producing, edible bright red berries in summer
Flowering Dogwood (Cornus florida)
, superb star shaped blossom at the beginning of spring, red foliage in the autumn
Red Barked Dogwood (Cornus alba)
, small creamy white flowers in May - June, bright red stems in winter
Wedding Cake Tree (Cornus Controversa Variegata)
, Magnificent variegated green and off white foliage that will take a red tint in the autumn. It has a spreading shape and an extremely sculptural aspect. Abundant blossom from May to June.