Rose of Sharon or Aaron's beard –
Hypericum calycinum (latin)
Area of origin:
Southern Europe
Adult Dimensions:
Height up to 0.5m (1,6'),
width up to 1 m (3,3').
Foliage: Evergreen.
Soil Type: Rich and well drained.
Hardiness: Hardy to -23°C.
Exposure: Full sun.
Plantation density: 6 / m².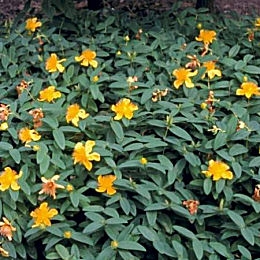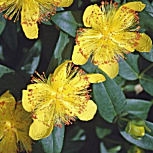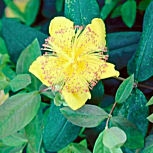 Characteristics and Uses:
Abundant golden yellow flowers from June to September. Excellent ground cover, used a lot to stabilise slopes and banks. Cutting once in spring will encourage strong growth.