Bay Laurel or Bay Tree -
Laurus nobilis (latin)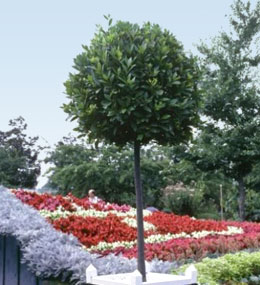 Area of origin: Mediterranean region.
Adult Dimensions: Height up to 20 m (65,6'), width up to10 m (32,8').
Foliage: Evergreen.
Soil Type: Light and rich. Dislikes lime.
Hardiness: Hardy to -16°C.
Exposure: Full sun.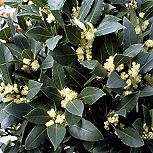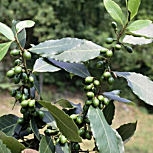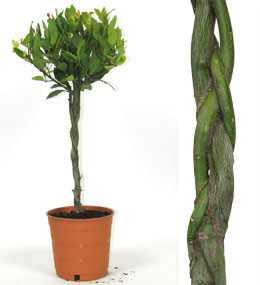 Bay laurel - Laurus nobilis Twisted stem
Characteristics and Uses: The bay tree has been used as the symbol of Victory since Ancient Times. The little yellow flowers grow in bunches.
The dried leaves are used to flavour sauces, vinegars and mustards. The green berries become black when ripe.

This shrub responds well to cutting into shape and is often planted in containers. It is very good used for marking borders, entrances and on terraces and balconies.
List of Laurels:
Common Laurel (Prunus laurocerasus 'Rotundifolia'), bright green foliage, clusters of white flowers, can be used in hedges, dislikes chalky soil
'Otto luyken' Laurel (Prunus laurocerasus 'Otto Luyken'), dark green leaves, narrow and upright, fragrant blossom early summer and autumn, adult height 1,50m, dislikes chalky soil
Portugal Laurel (Prunus lusitanica), shiny green foliage, white flowers in June, can be used in hedges
List of Aromatic plants:
Corsican mint (Mentha requienii), dwarf mint, ground cover, peppery smell
Lemon Thyme (Thymus citriodorus), lemon scent
Oregano 'Aureum' (Origanum vulgare 'Aureum'), extremely decorative golden foliage
Oregano 'Compactum' (Origanum vulgare 'Compactum'), compact green foliage, highly fragrant
Peppermint bergamota (Mentha piperita Citrata), lemon scent
Peppermint (Mentha piperita), peppery taste
Pineapple mint (Mentha suaveolens 'Variegata'), variegated foliage, scent of apple and pineapple
Rosemary (Rosmarinus officinalis)
Spear Mint - Mentha Spicata
Tarragon (Artemisia dracunculus)
Thyme (Thymus vulgaris)
Wild Thyme (Thymus Serpyllum)