Argenteomarginata Holly –
Ilex aquifolium 'Argenteomarginata' (latin)
Area of origin: Europe.
Adult Dimensions:
Height up to 20m (65,6'),
width up to 15m (49,2').
Foliage: Evergreen.
Soil Type: Dislikes lime.
Hardiness:
Hardy to -20°C,
prefers damp conditions
Exposure: Semi shade to full sun.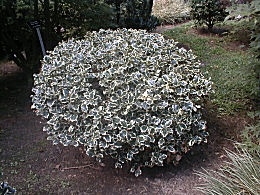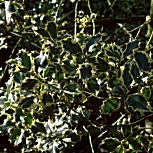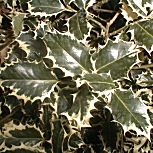 Characteristics and Uses:
The red fruits remain throughout the winter, they are very decorative as are the shiny green foliage with creamy white borders. It is suitable for small or large gardens, growing within a hedge, in flowerbeds or alone. It will cut to shape very effectively, and can be grown in containers and trained into shapes such as a standard. It is commonly used by florists. Holly is a species that requires male and female plants for producing fruits.
List of hollies:
Alaska Holly
(Ilex aquifolium 'Alaska'), female, abundance of decorative red berries, shiny green foliage.
Common Holly
(Ilex aquifolium), decorative red berries throughout winter, shiny green foliage.