Creeping Gypsophila, Baby's Breath -
Gypsophila repens (latin)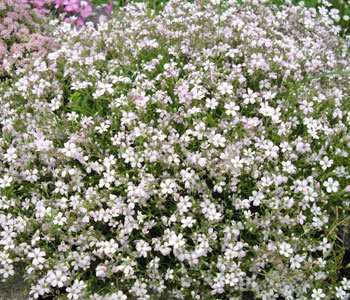 Author: Ghislain118
Adult dimensions: Height up to 20cm, width up to 45 cm.
Foliage: Semi-evergreen.
Type of soil: well drained, withstands chalk.
Hardiness: Hardy to -30°C.
Site: Full sun.
Plantation density: 6 / m².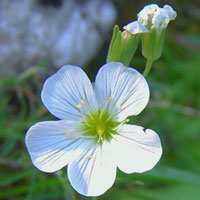 Author: Opiola Jerzy
Characteristics and uses:
The creeping Gypsophila is a perennial, which has blue-green foliage. Its leaves are small and narrow. Throughout the entire summer, it is covered with small, white, star-shaped flowers.
Ideal used as a ground covering plant, planted at the roots of the shrubs in a border or in containers.
At the end of flowering, it is important to prune the creeping Gypsophila to maintain a nice shape.
Beware, as the Gypsophila is toxic.