May Berry 'Blue Velvet', Edible Honeysuckle -
Lonicera kamtschatica 'Blue Velvet' (latin)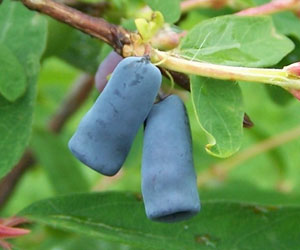 Author: Opiola Jerzy
Geographic origin: Siberia.
Adult Dimensions: Height up to 1.5 meters, width up to 1 meter.
Foliage: Deciduous.
Type of soil: Moist, not chalk.
Hardiness: Hardy to -40°C.
Site: Full sun, even partial shade.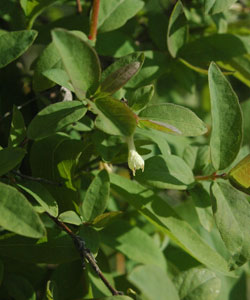 Author: Doronenko
Characteristics and uses: This honeysuckle produces edible blue berries that appear in May. They have a flavour somewhere between a kiwi and a blue berry; the berries are acidic and not very sweet but very rich in vitamins. They can be eaten raw, in jam, as juice or even dried. They can be mixed with goji berries to provide a vitamin rich meal!

The May berry comes from a cold climate and is therefore very hardy. However, it does not tolerate drought. It therefore needs regular watering through the summer and the ground around it should be mulched to keep it moist. It can even be grown in partial shade in regions that have very hot summers.

It is a good idea to plant at least two May berries next to each other to ensure good fruit production.