Areas of origin: Southern Europe to central China.
Adult Dimensions: Height up to 3 metres, width up to 3 metres (9.8').
Foliage: Deciduous. Purple.
Soil type: All. Avoid that which is too wet.
Hardiness: Hardy tolerant to -20°C.
Exposure: Full sun.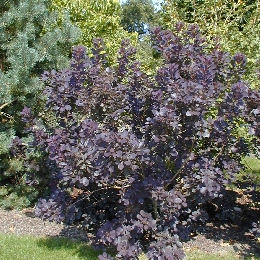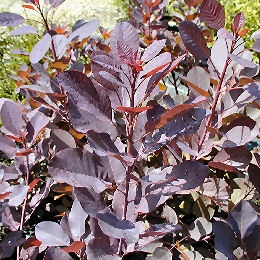 Characteristics and Uses:
The purple foliage becomes orange in autumn.The most interesting characteristic is the long pinkish filaments on the stems of the bloom clusters which create a striking cloudlike effect through the summer. This shrub is popular planted alone or within a mix of plants and adds originality to all gardens. The sap is irritant to skin and mucous membranes. The wood is rich in tannin. feathery plumes in summer.