Common Walnut or Persian Walnut -
Juglans regia (latin)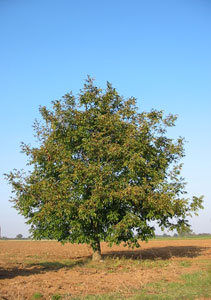 Creative Commons - Author: Georg Slickers
Geographic origin: Europe.
Adult size: Height up to 25m (82'), width up to 20m (65,6').
Foliage: Deciduous.
Type of soil: Lightly acid, light and rich.
Climate: Hardy to -20°C, can be sensitive to spring frosts prefers mild climates.
Position: Full sun.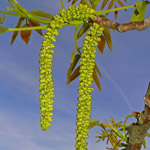 Author: Llez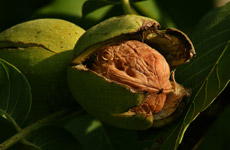 Author: Böhringer Friedrich
Characteristics and uses: The pulpy green fruits are dark brown when ripe. It is the seed inside, the walnut that is edible. The fruits are picked at the end of October. There are a number of varieties and cultivars which have been developed for cultivating fruit and improving quality and harvests( 'Franquette', and 'Marbot', etc). The wood is much sought after in cabinet making. Plant alone.
Many fruit varieties and cultivars have been developed with the aim of increasing their yield. This is how the 'Franquette' was created; it is the most widespread variety and produces large fresh hard-shelled nuts in August and September. This variety is especially impressive as even young trees can produce nuts.
The 'Parisienne' is also a very widespread variety. Its cropping is quite late (middle of October). The nuts are large and round, the shell is soft and the flesh delicate and scented. Additionally this variety is not susceptible to bacterial diseases.
List of trees and shrubs with edible fruits:
Black Chokeberry 'Viking' (Aronia melanocarpa 'Viking'), slightly acidic berries, purple black used in jam-making
Blueberry Bush 'Jersey' (Vaccinium corymbosum 'Jersey'), slightly acidic fruits, from August
Common Hazel (Corylus avellana), nuts from September
'Jenny' Self Fertile Kiwi (Actinidia chinensis 'Jenny'), hardy to -12°C
Pineapple Guava (Feijoa sellowiana), fruits rich in vitamin C and pineapple taste, only grows in warm climate areas
Raspberry 'Fall Gold' (Rubus idaeus 'Fall Gold'), soft fruits, fragrant, orangey yellow, double cropping and self-fertile variety
Raspberry 'Heritage' (Rubus idaeus 'Heritage'), soft and fragrant fruits, double cropping and self - fertile variety
Red Chokeberry 'Brilliant' (Aronia arbutifolia 'Brilliant'), bright red fruits from the Autumn
Strawberry Tree (Arbutus unedo), hardy to -12°C, its fruits look like a strawberry
Sea Buckthorn (Hippophae rhamnoides), extremely decorative fruits, rich in vitamin C
Sweet Chestnut (Castanea sativa), edible fruits when grilled
White Mulberry (Morus alba), pinkish white fruits, sweet
Edible Hedge 'Ophélie', provides edible red fruits throughout the summer
See the catalogue of tree and shrubs with edible fruits