Amelanchier or European serviceberry –
Amelanchier ovalis ou vulgaris (latin)
Area of origin: Central and southern Europe.
Adult Dimensions: Height up to 3 metres, width up to 3 metres (9.8').
Foliage: Deciduous.
Soil type: All.
Hardiness: Hardy tolerant to -18°C.
Exposure: Full sun.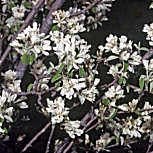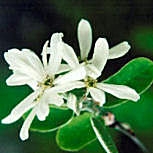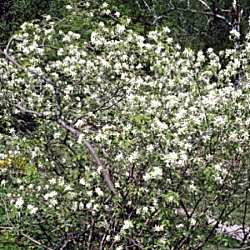 Characteristics and Uses:
Abundant white flowers in April and May before the leaves. The leaves turn beautiful colours of orange and red in autumn. These characteristics make it a very interesting tree for parks and gardens planted alone or in groups. It's seeded fruits the size of a pea are a blue-black colour.