Areas of origin: Indigenous in the Mediterranean scrublands from 0 to 1000 metres (1094 yds).
Adult Dimensions: Height up to 10 metres, width up to 10 metres (32.8').
Foliage: Evergreen.
Soil type: Grows in soils mildly lime.
Hardiness: Tolerant to -12°C.
Exposure: Full sun.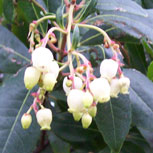 List of trees and shrubs with edible fruits:
Black Chokeberry 'Viking' (Aronia melanocarpa 'Viking')
, slightly acidic berries, purple black used in jam-making.
Blueberry Bush 'Jersey' (Vaccinium corymbosum 'Jersey')
, slightly acidic fruits, from August.
Common Hazel (Corylus avellana)
, nuts from September.
Common Walnut (Juglans regia)
, nuts from end of October, delicious in salads.
'Jenny' Self Fertile Kiwi (Actinidia chinensis 'Jenny')
, hardy to -12°C.
Pineapple Guava (Feijoa sellowiana)
, fruits rich in vitamin C and pineapple taste, only grows in warm climate areas.
Raspberry 'Fall Gold' (Rubus idaeus 'Fall Gold')
, soft fruits, fragrant, orangey yellow, double cropping and self-fertile variety.
Raspberry 'Heritage' (Rubus idaeus 'Heritage')
, soft and fragrant fruits, double cropping and self - fertile variety.
Red Chokeberry 'Brilliant' (Aronia arbutifolia 'Brilliant')
, bright red fruits from the Autum.
Sea Buckthorn (Hippophae rhamnoides)
, extremely decorative fruits, rich in vitamin C.
Sweet Chestnut (Castanea sativa)
, edible fruits when grilled.
White Mulberry (Morus alba)
, pinkish white fruits, sweet.
Edible Hedge 'Ophélie'
, provides edible red fruits throughout the summer.
See the catalogue of tree and shrubs with edible fruits