Area of origin:
China.
Introduced into Europe in 1845.
Adult Dimensions:
Height up to 3 m (9,8'),
width up to 2 m (6,6').
Foliage: Evergreen.
Soil Type:
Moist well-drained soil and acid,
tolerates heavy clay.
Hardiness:
Avoid drying winds.
Hardy to -15°C.
Exposure: Shade to semi- shade.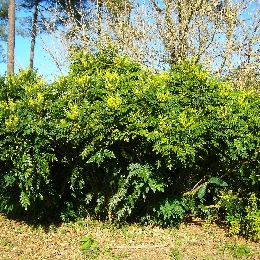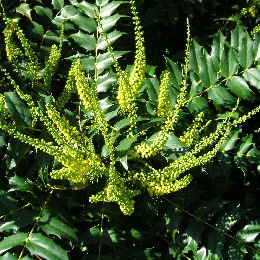 Characteristics and Uses:
Spectacular lemon yellow fragranced flowers in January in the form of erect racemes that can measure up to 30cm (11,8") long. The foliage looks very similar to that of holly and adds greatly to the garden. In a very shady position , it may produce less flowers. From May to July the blue black fruits attract the birds. This shrub is usually planted within flowerbed.