Bamboo Phyllostachys nigra f. boryana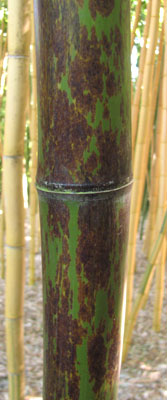 Geographic Origin: Originates from China and Japan (Honshu Island).
Adult size: 8 to 12 metres in height.
Diameter of cane: Up to 9cm.
Foliage: Evergreen.
Type of soil: Moist and deep. Does not like excessive chalk.
Exposure: Full sun.
Hardiness: -23°C.
Root development: Slightly spreading root system.
Characteristics and uses:
The canes of this bamboo can take on different colours. The dark green can have a bluish aspect, and all the canes are marbled with brown marks. Its leaves are slender and light and are dark green in colour.

It is best grown in individual clumps or in groups.

It can be very hardy if it is protected from cold winds.
www.planfor.CO.UK