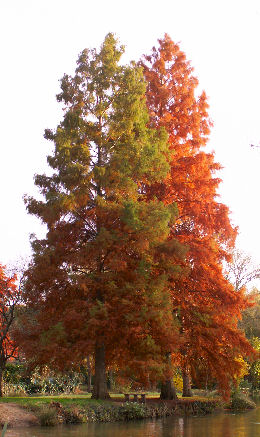 Botanical garden of Angers - France
Areas of origin: South east of United States from Mississippi . Introduced in 1640.
Adult Dimensions: Height up to 50 m (164'), width up to 15m(49,2').
Foliage: Deciduous.
Soil Type: Acid and moist.
Hardiness: Hardy to -28°C.
Exposure: Full sun.






Characteristics and Uses: In a wet areas outgrowths of roots appear all around the trunk more than a metre in height to aid the respiration of the tree. This peculiarity along with the yellow brown foliage in autumn makes this a magnificent ornamental tree that can be planted alone close to areas of water. It has a life expectancy of 1000 years in the United States. It is very useful in forestation of wet areas because it grows quickly and the non resinous wood is of a quality comparable with that of the Sylvester Pine.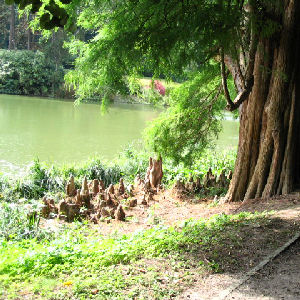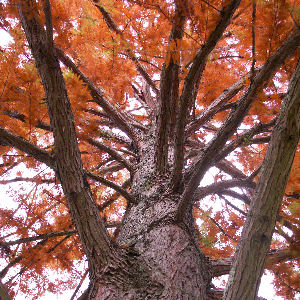 List of Cypress:
Boulevard Sawara False Cypress (Chamaecyparis pisifera 'Boulevard'), dwarf conifer, rounded weeping shape, bright green foliage with hints of white
Italian Pencil Cypress (Cupressus sempervirens 'stricta'), narrow columnar shape
Italian Cypress (Cupressus sempervirens pyramidalis), narrow columnar shape
Lawson Cypress (Chamaecyparis lawsoniana), conical shape and dense foliage, citronella scented bark, can be used in a hedge, dislikes chalky soil
Lawson Cypress 'Columnaris Glauca' (Chamaecyparis lawsoniana 'Columnaris Glauca'), dwarf conifer, conical shape, blue grey foliage
Lawson Cypress 'Ellwoodii' (Chamaecyparis lawsoniana 'Ellwoodii'), dwarf conifer, conical shape, green grey foliage
Lawson Cypress 'Ellwood's Gold' (Chamaecyaris lawsoniana 'Elwood's Gold'), dwarf conifer, conical shape, golden green foliage
Leyland Cypress (Cupressocyparis leylandii), rapid growth, often used in hedges, extremely hardy
Monterey Cypress (Cupressus macrocarpa), rapid growth, spreading shape increasing with age, citronella scented needles, can be used in a hedge

See the Cypress catalogue