Bamboo Phyllostachys stimulosa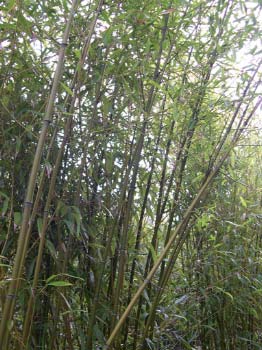 Geographic Origin: Originates from the Southeast of China, Zhejiang and Anhui provinces.
Adult size: 5.5 to 7.5 m. in height.
Cane diameter: 2 to 3,5 cm.
Foliage: Evergreen.
Type of soil: Moist and deep. Does not like excessive chalk.
Exposure: Partial shade or sun.
Hardiness: -24°C.
Root development: Runner root system (spreading variety).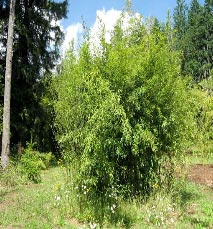 Characteristics and uses:
The stems of the bamboo are a pronounced dark green in colour.

It is happiest when grown in clumps or as part of a hedge or copse.

The young shoots are only eaten in Asia if there is a food shortage because they taste horrible. This variety was introduced in to France at the end of the 1980's. Its Chinese name is "Manzhu".
www.planfor.CO.UK