Gourmand Hedge
Aims: The gourmand hedge is a real treat for both the eyes and the taste buds! It will enchant adults and children alike as they harvest its delicacies. Thanks to this hedge you will now be able to make your own jams and adorn your dishes with a touch of originality.
Adult Height: Up to 4m, take care to grow plants of similar adult size next to each other. To make harvesting easier it is a good idea to prune.
Period of interest: Primarily the summer and autumn at the time of fruiting.
Planting distances: Dependant on the plants chosen (see the table below).
Pruning: The gourmand hedge will be at its best if not pruned. However pruning can be useful to encourage fruiting and to control volume.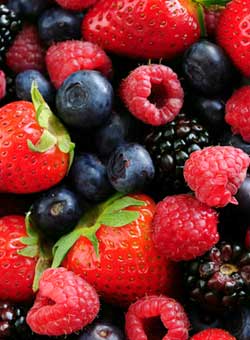 Example of Gourmand Hedge:
Gourmand Hedge Ophélie

| Plants | Fruit Color | Harvesting Period | Adult Height | Planting Distances | | | |
| --- | --- | --- | --- | --- | --- | --- | --- |
| Amelanchier | | J.F.M.A.M.J.J.A.S.O.N.D | H: 3m | 0m80 | | -18°C | |
| Blackberry, edible, early 'Loch'Tay' | | J.F.M.A.M.J.J.A.S.O.N.D | H: 3/5m | 1m | | -20°C | |
| Blackberry 'Dirksen' | | J.F.M.A.M.J.J.A.S.O.N.D | H: 5m | 1m50 | | -25°C | |
| Blackcurrant | | J.F.M.A.M.J.J.A.S.O.N.D | H: 1m50 | 0m80 | | -25°C | |
| Black Chokeberry 'Viking' | | J.F.M.A.M.J.J.A.S.O.N.D | H: 1m50 | 0m80 | | -30°C | |
| Blueberry Bush 'Jersey' | | J.F.M.A.M.J.J.A.S.O.N.D | H: 1m50 | 0m80 | | -30°C | |
| Cherry Plum | | J.F.M.A.M.J.J.A.S.O.N.D | H: 8m | 4m00 | | -32°C | |
| Cherry tree, Carmine Jewel 'Griotte' | | J.F.M.A.M.J.J.A.S.O.N.D | H: 2m | 0m80 | | -15°C | |
| Cherry tree, Nanking | | J.F.M.A.M.J.J.A.S.O.N.D | H: 2m | 0m80 | | -15°C | |
| Chilean Guava | | J.F.M.A.M.J.J.A.S.O.N.D | H: 2m | 0m80 | | -8°C | |
| Common Hazel | | J.F.M.A.M.J.J.A.S.O.N.D | H: 5m | 1m50 | | -28°C | |
| Common Medlar | | J.F.M.A.M.J.J.A.S.O.N.D | H: 5m | 4m00 | | -20°C | |
| Common Myrtle | | J.F.M.A.M.J.J.A.S.O.N.D | H: 3m | 0m80 | | -14°C | |
| Cornelian Cherry Dogwood | | J.F.M.A.M.J.J.A.S.O.N.D | H: 10m | 1m50 | | -23°C | |
| Dog Rose | | J.F.M.A.M.J.J.A.S.O.N.D | H: 3m | 0m80 | | -15°C | |
| Edible Honeysuckle Haskap | | J.F.M.A.M.J.J.A.S.O.N.D | H: 2m | 0m80 | | -40°C | |
| Elderberry | | J.F.M.A.M.J.J.A.S.O.N.D | H: 6m | 1m50 | | -29°C | |
| Goji | | J.F.M.A.M.J.J.A.S.O.N.D | H: 3m | 0m80 | | -20°C | |
| Goji, Yellow Berry | | J.F.M.A.M.J.J.A.S.O.N.D | H: 1,5m | 0m80 | | -10°C | |
| Gooseberry | | J.F.M.A.M.J.J.A.S.O.N.D | H: 1m50 | 0m80 | | -25°C | |
| Goumi, Cherry Silverberry | | J.F.M.A.M.J.J.A.S.O.N.D | H: 1,5 to 3m | 0m80 | | -25°C | |
| Hybrid Berry, Tayberry | | J.F.M.A.M.J.J.A.S.O.N.D | H: 2m | 1m | | -15°C | |
| Japanese Cornel Dogwood | | J.F.M.A.M.J.J.A.S.O.N.D | H: 5m | 1m50 | | -25°C | |
| Jostaberry | | J.F.M.A.M.J.J.A.S.O.N.D | H: 1m50 | 0m80 | | -20°C | |
| Maquei 'Variegata' | | J.F.M.A.M.J.J.A.S.O.N.D | H: 2m50 | 1m50 | | -10°C | |
| May Berry, Edible Honeysuckle | | J.F.M.A.M.J.J.A.S.O.N.D | H: 1m50 | 0m80 | | -40°C | |
| Pineapple Guava | | J.F.M.A.M.J.J.A.S.O.N.D | H: 3m | 1m50 | | -10°C | |
| Raspberry Black Jewel | | J.F.M.A.M.J.J.A.S.O.N.D | H: 1m50 | 0m80 | | -20°C | |
| Raspberry 'Glen Coe' non everbearing | | J.F.M.A.M.J.J.A.S.O.N.D | H: 1m50 | 0m80 | | -15°C | |
| Raspberry, Yellow everbearing | | J.F.M.A.M.J.J.A.S.O.N.D | H: 1m20 | 0m80 | | -23°C | |
| Raspberry 'Heritage' | | J.F.M.A.M.J.J.A.S.O.N.D | H: 1m50 | 0m80 | | -30°C | |
| Raspberry 'Paris' | | J.F.M.A.M.J.J.A.S.O.N.D | H: 1m50 | 0m80 | | -15°C | |
| Raspberry 'Red Angel', thornless | | J.F.M.A.M.J.J.A.S.O.N.D | H: 1m50 | 0m80 | | -30°C | |
| Raspberry 'Tulameen' | | J.F.M.A.M.J.J.A.S.O.N.D | H: 2m | 0m80 | | -30°C | |
| Raspberry 'Versailles', thornless | | J.F.M.A.M.J.J.A.S.O.N.D | H: 1m50 | 0m80 | | -15°C | |
| Red chokeberry | | J.F.M.A.M.J.J.A.S.O.N.D | H: 2m | 0m80 | | -30°C | |
| Red Currant | | J.F.M.A.M.J.J.A.S.O.N.D | H: 1m50 | 0m80 | | -30°C | |
| Rowan, large fruit 'Burka' | | J.F.M.A.M.J.J.A.S.O.N.D | H: 4m | 1m50 | | -20°C | |
| Sea Buckthorn | | J.F.M.A.M.J.J.A.S.O.N.D | H: 10m | 1m50 | | -17°C | |
| Strawberry tree | | J.F.M.A.M.J.J.A.S.O.N.D | H: 10m | 1m50 | | -12°C | |
| Pepper, Mountain | | J.F.M.A.M.J.J.A.S.O.N.D | H: 5m | 0m80 | | -20°C | |
| Pepper, Szechuan | | J.F.M.A.M.J.J.A.S.O.N.D | H: 5m | 1m50 | | -20°C | |
KEY

: Fruit color
J.F.M.A.M.J.J.A.S.O.N.D
: Month of year, harvesting months in bold
(Ex. Here harvesting is between March and September.)
H: 3m
: Adult height of plant, here it is 3m
1m50
: Planting distance between plants, here it is 1.50m

: Plant does not tolerate alkaline soil
-20°C
: Adult plant hardy to -20°C