Blue Passion Flower –
Passiflora cærulea (latin)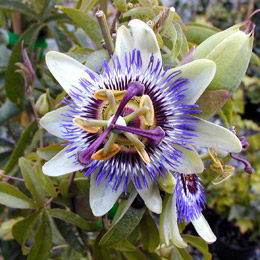 Geographic origins: South America.
Adult size: Length of creepers, up to 6 metres.
Foliage: Evergreen, it will start to loose its leaves below -5°C.
Type of soil: All, well drained.
Hardiness: Hardy to -12°C once established. Plant in a sheltered spot away from draughts and cold winds.
Exposure: Full sun.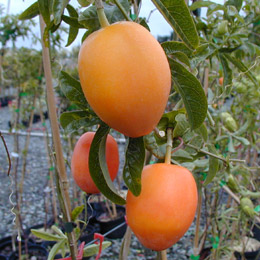 Characteristics and uses:
The Passion Flower has beautiful flowers from May/June through until September. Its very distinct flowers give off a delicate scent of Monoï. The fruits that appear afterwards are not edible. It is a good idea to remove them as soon as they appear so that they do not drain the plant of energy.
The Passion Flower will happily climb up a trellis, fence or any other available support. Its quick growth will soon turn it into a beautiful ornamental plant.
In colder areas, it is advisable to cover it with a horticultural fleece in winter.
In addition, it can also be grown as a houseplant. Use a pot of between 16 and 20cm in diameter. It flowers best if its roots are slightly restricted and can reach between 1.5 and 2 metres in height.
Other Passiflore:
Passion Flower, 'Perfume passion' (Passiflora x belotii 'Perfume passion'), Hardy to -12°C, superb highly fragrant lilac- white flowers (lemony scent) from April right through to the end of the summer.