Mimosa or Silver Wattle 'Gaulois Astier' -
Acacia dealbata 'Gaulois Astier' (latin)
Area of origin:Australia.
Adult Dimensions: Height up to 30 m (98.4'), width up to 10 m (32.8').
Foliage: Evergreen.
Soil Type: Light and well drained. Avoid lime.
Hardiness: Tolerant to -5°C, the part of the tree above ground can sometimes die off but generally will regrow from the base. This tree will not survive temperatures lower than -10°C.
Exposure: Semi-shade to full sun.
Speed of growth: Up to 1 m in the first year.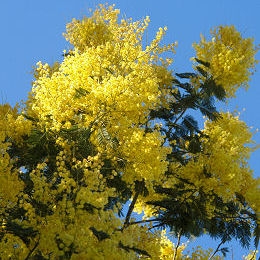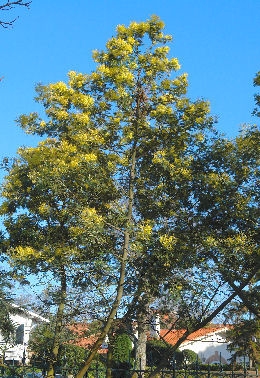 Characteristics and uses: Abundant perfumed flowers in February and March Greatly used in floristry the mimosa is a tree that is planted alone.