Tricolor beech - Fagus sylvatica 'Tricolor' (latin)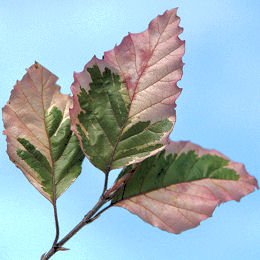 FOR COLLECTORS
Area of origin: Cultivated.
Adult dimensions: Height: Up to 30 meters.Spread: Up to 20 meters.
Foliage: Deciduous.
Soil: All soil that possesses good filtering properties.
Hardiness: Frost hardy up to -20°C, prefers humid atmospheres.
Position: Shade to full sun.
Characteristics and features:
Its variegated foliage is guaranteed to render your grounds unique! Can be planted singly or in rows. Responds well to pruning and can also be used to create beautiful screen hedging. Amateurs of Bonsai will also find this an interesting subject to work with.
List of Beech:
Purple Beech
(Fagus sylvatica purpurea), extremely decorative purple foliage.
Tricolor Beech
(Fagus sylvatica 'Tricolor'), extremely beautiful variegated foliage, sought after by bonsai connoisseurs.
www.planfor.co.uk