Variegated Chinese silver grass –
Miscanthus sinensis 'Variegatus' (latin)
Area of origin: China, Japan.

Adult Dimensions:
Height up to 2 m (6,6'),
width up to 1.5 m (4,9').

Foliage: Deciduous.

Soil Type:
Rich and well drained.
Enrich if too poor.

Hardiness: Hardy to -20°C.

Exposure: Semi-shade to full sun.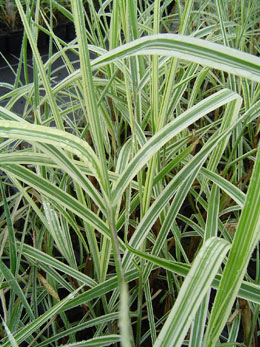 Characteristics and Uses:
This grass with green and white striped leaves grows densely. Plumes of silky flowers emerge with a pink tinge at the end of the summer. It creates a beautiful effect planted alone in a pot or in the open ground. Planted together in a group a number of these plants create a lovely screen which complements other shrubs and flowers in the garden.