Areas of origin: Atlas mountains in Morocco and Algeria at 1400 to 2200 m (1531 to 2435yds). Introduced in 1842.
Adult Dimensions: Height up to 40 m (131'), width up to 20 m (65.6').
Foliage: Evergreen.
Soil Type: All but not in stagnant water.
Hardiness: Hardy to -23°C.
Exposure: Full sun.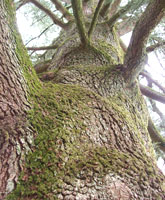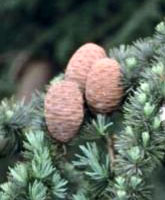 Characteristics and Uses:
Planted alone in parks it is also used to created fantastic avenues. Bonsai enthusiasts enjoy working on this species. It is also planted in forests in some regions. The wood is very strong, perfumed and resistant to moisture and termites such those found in the temples of the Middle East and India. Can be cut to use for veneers.
List of Cedars:
Himalayan Cedar (Cedrus deodara), long weeping branches.
Lebanon Cedar (Cedrus libani), characteristic spreading shape.
Weeping Blue Atlas Cedar (Cedrus atlantica Glauca Pendula), its weeping shape makes it quite an exceptional tree.